Equestrian Tours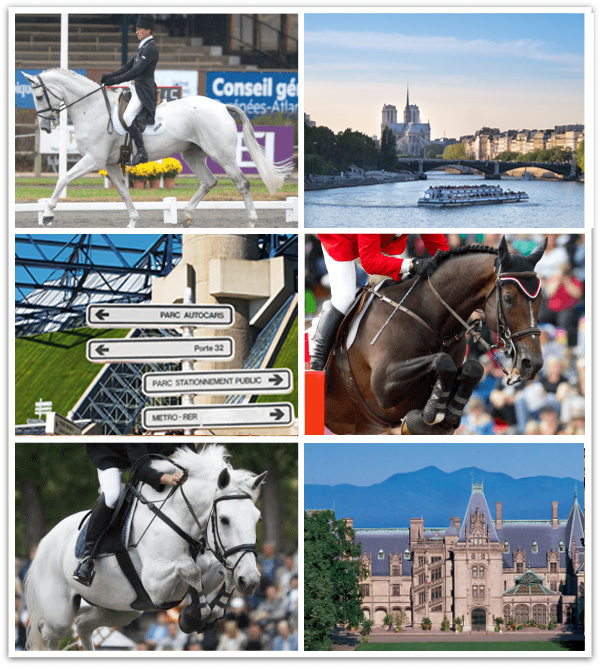 Equestrian Tours, LLC has organized travel programs to major equestrian events since 1984 including every World Equestrian Games since Stockholm in 1990. We were named the Official U.S. Ticketing Agent for the Alltech FEI World Equestrian Games ™ 2014 in Normandy.
In addition to the WEG's, we have organized programs to the Aachen Equestrian Festival, Luhmuhlen, Badminton & Burghley Horse Trials, Rotterdam, Dublin Horse Show, Saumur & the Blair Castle Horse Trials as well as other exciting venues.
We do not rent, sell or loan our mailing list.  You can expect no more than four mailings yearly in an effort to keep you appraised of our travel programs
World Equestrian Games 2018
We are delighted to have information to give you on our World Equestrian Games programs for week I (Dressage, Eventing, Endurance & Reining) & Week II (Show Jumping, Driving, Vaulting & Para-Dressage).

About Us
We don't call our offerings "tours", because, although we put together groups of interested (and interesting) people to attend an equestrian event, we don't insist on structuring their day. We refer to our offerings as "programs". We organize the hotels, transportation, some interesting sightseeing, tickets to the event, and a special dinner or dinners where possible and we are there to help and guide as needed, but it is your holiday and you are free to do as you wish. We just try to make it easier by thinking about things and making arrangements farther in advance than most people would.
Our gatherings bring wonderful people together with similar interests and we stand back and let you enjoy yourselves. How many do we have traveling on our programs? In the years between the World Equestrian Games, our groups number only about 12 – 25 people. On the World Equestrian Games programs, we gather quite a larger number but it only allows us to do the special things we can usually add. After all, there will be two hundred thousand people there anyway and the hotel will be full, so whether we are 18 or 80, we won't make a dent in the turn-out.
You will never be "herded", there won't be "head counts". Comments on our trips are "you sure deliver as promised", "I've never taken a tour before, this was great", "I couldn't get tickets, I'm so glad I found you" and most often "we'll be back!".
Our staff and I are riders as well as travel organizers.